Organic Mondays: The Game-Changing Tampon Subscription Box
So, you've read Organic Mondays reviews, you've seen the online hype, and heard your friends discuss their plastic-free tampons.
No wonder you're intrigued. Putting menstrual health in the spotlight for all the right reasons, Organic Monday products are heralding a new era in women's health.
Co-founder Nancy had the 'lightbulb moment' after the birth of her first child, when she discovered that period products aren't just wrapped in plastic, but also contain the substance.
Built on the purpose of delivering the best plastic-free tampons to women, Organic Mondays was born.
What Organic Mondays Products are best for me?
The fantastic thing with this small business, is the thoughtful range they have produced.
This includes an organic panty liner kit, their popular organic period pads and their organic tampons – all of which are reassuringly made from 100% organic cotton – no plastic anywhere.
If this is your first time ordering from Organic Mondays UK, you could start-out with the mixed box.
This includes 25 products which you can personally pick and mix, including organic period pads, liners and tampons.
As these come in different flows, you can adjust to your needs. For instance Organic Mondays Tampons come in regular absorbency and super absorbency, and the organic period pads come in day and night versions, both with wings, and both with varying lengths to cater to each environment.
There's also panty liners for when your blood flow starts to end.
It's refreshing to have so much choice and control over your monthly sanitary requirements.
Read More: The Best Tampon Subscription Boxes in the UK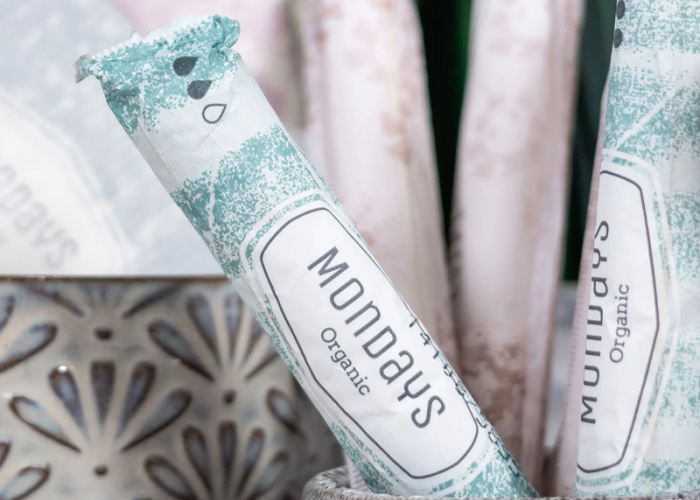 How does the Organic Mondays Tampon Subscription work?
Signing up to their pads and tampon subscription is easy. Plus, you can cancel at any time if you feel it's not for you, or you have enough product in stock to save you.
You start by building your box of essentials. There's a handy 15 second quiz which helps ascertain the best Organic Mondays products for your lifestyle.
From here, just go ahead and build and create your own box, which must be 25 items.
The service is set up for delivery every 28 days, however you can adjust this to be more or less frequent. Once you're done you pay on an ongoing basis.
There's also the option to buy their ready-made packs, which are slightly more affordable and consist of one set product.
Read More: Ultimate Guide to the Best Beauty Subscription Boxes in the UK
Cost of Organic Mondays Tampons:
As with most organic subscription boxes for tampons and pads, expect to pay more, but in return you'll get a higher quality product.
The mixed boxes of 25 items can vary in price, but as a helpful guide, the Organic Mondays Tampons kit, which includes 12 regular and 10 super tampons costs £11.65 for a one-off purchase. If you're able to subscribe, you'll get a further 5% off.
To shop and try out some of the best plastic-free tampons on the market, visit: https://organicmondays.co.uk today.
Benefits of using Organic Mondays Tampons:
From their sustainable credentials, to their plastic-free motto, there's a couple of good reasons why you might want to try out Organic Mondays products. Here's just a few:
High-quality products:
What you put in your body matters. With Organic Mondays tampons, you're safe in the knowledge that there's no hidden toxins, plastics or nasties – just 100% organic cotton. The same applies to their pads and liners.
Convenient subscription service:
Tailoring their products to your personal needs, Organic Mondays tampons can be shipped directly to your house every month. That's one less thing on your 'to do' list to worry about.
Plus, you can get free UK Shipping on most items.
Better for the planet:
As you'd expect from one of the top pads and tampon subscription boxes, all the finer details have been thought of. This means that the packaging of the box is recyclable, the tampon wrappers themselves are compostable and the tampon applicators are made from cardboard, which can also be recycled.
Individually wrapped:
As you might have read in Organic Mondays reviews, products come individually wrapped. For life on the go, this is really handy and convenient.
Doing good:
This isn't just a company that helps the world, it also cares. The business generously donates one per cent of its sales to environmental and social causes.
They come with a good reputation:
It's reassuring to know that Organic Monday reviews are consistently high. They have a loyal customer base and have featured widely in the press, including Good Housekeeping magazine. Consider this a bona fide stamp of approval.
Best plastic-free tampons:
If Organic Mondays products are known for one thing, it's their plastic-free approach. Good for you, better for the environment.
Want to give them a Try?
If you're interested to learn more about Organic Mondays products, or sample the range, visit their website.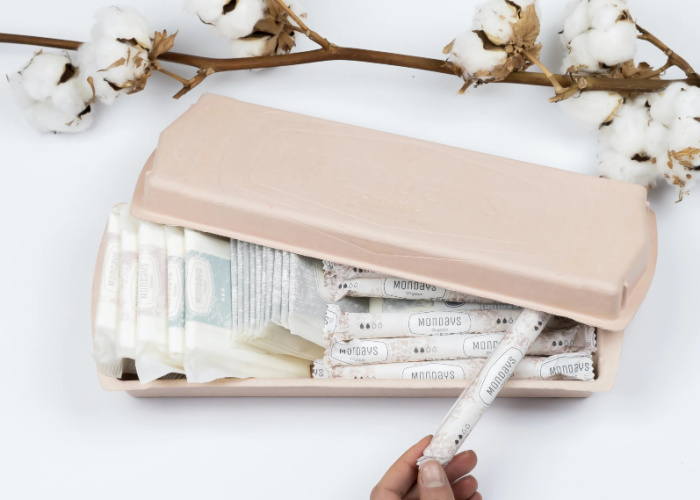 Frequently Asked Questions
In this section we answer your question about Organic Mondays Tampons.
What sizes of tampons are available with Organic Mondays?
Organic Mondays offers a range of tampon sizes, catering to the lowest absorbency needs to the requirements for heavier days. Their eco-friendly tampons are available in light, regular, and super sizes.
How should I dispose of Organic Mondays products?
The tampon wrappers and pad liners from Organic Mondays are BPI-certified compostable. This reflects their commitment to the planet by offering eco-friendly tampons and eco applicators.
What certifications does Organic Mondays have?
Organic Mondays boasts various certifications, emphasizing their dedication to safe and eco-friendly period care products. These include FDA approval and BPI Certification for compostable tampon wrappers and pad liners.
Do Organic Mondays products expire?
The shelf life of Organic Mondays products, like tampons and pads, is typically around four years. It's essential to store them in a dry, cool environment to maintain their quality.
What are the ingredients in Organic Mondays products?
Organic Mondays' products are made from 100% certified organic cotton. They are free from synthetic fibres, chlorine bleach, and harmful chemicals, making them safe for your body and vagina.
What subscription plans are available?
Organic Mondays offers various subscription box options, including monthly, bi-monthly, or quarterly delivery plans. These boxes are letterbox friendly and can be easily managed or cancelled as per your convenience.
Are Organic Mondays products addressing period poverty?
Organic Mondays is committed to addressing period poverty by providing high-quality, eco-friendly tampons and pads to those in need, furthering their mission of making period care accessible and sustainable.
How does the eco applicator work in Organic Mondays products?
The eco applicators used in Organic Mondays tampons are designed to be environmentally friendly, reducing the use of plastic and making the insertion process easy and comfortable.