Ultimate Guide to the M&S Summer Beauty Bag
We know how much of a treat it is to pamper yourself with luxury beauty products, but with so many brands and products out there, it can be a task to keep up. Enter M&S Beauty Bag – your shortcut to sampling the best of the best in beauty.
If you've ever stood in front of the skincare aisle, overwhelmed by the number of serums, creams, and cleansers on offer, then M&S's ever-popular Beauty Bag is your solution.
Whether you're a skincare enthusiast looking to try something new or a makeup lover who enjoys experimenting with different brands, we have just the thing for you: this article will be your definitive guide to everything you need to know about the M&S Beauty Bag – from its contents to its value for money and even some news about M&S's festive beauty plans. Let's take a look!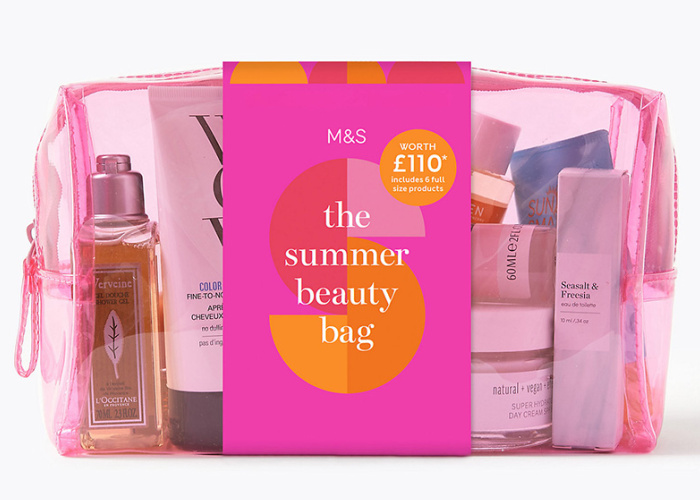 What is the M&S Beauty Bag?
Imagine a carefully curated selection of skincare, makeup, haircare and fragrance favourites from luxury brands delivered to your doorstep – that's the M&S Beauty Bag for you. Released periodically by Marks and Spencer, one of the UK's most cherished retail brands, the Beauty Bag is a fantastic way to trial top beauty products without breaking the bank.
Perfect for self-pampering or gifting to a special someone, this curated selection of beauty goodies is designed to wow: each box typically contains a mix of full-sized products and generous samples from M&S's well-stocked beauty department, meaning you'll get to try an assortment of items across different brands and categories.
Notably, the M&S Beauty Bag isn't a subscription service, like many beauty boxes in the market today. Instead, it's more of a special promotion that Marks and Spencer runs periodically, usually coinciding with a holiday or season. It's an exciting event anticipated by many in the beauty community, so keep an eye on the calendar and M&S's announcements to snag one!
Read More: Ultimate Guide to the Best Beauty Subscription Boxes in the UK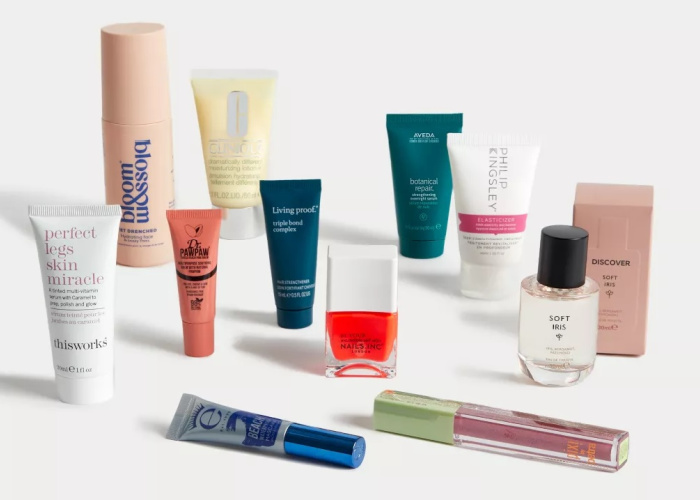 What's inside?
While the contents of the M&S Beauty Bag vary with each edition, you can always expect a delightful mix of products. Ranging from top-notch skincare like moisturisers, serums, face masks, and cleansers to makeup essentials including mascara, lipstick, and blush, the variety never disappoints.
Haircare is another key category, with hair masks, shampoos, and conditioners often featuring. Not to mention the fragrances – from perfumes to scented candles, you're in for a sensory treat.
When it comes to prestige and quality, the products included in each Beauty bag come from a host of different brands, both high-end and high-street. M&S takes pride in choosing the most sought-after and innovative items to include in their Beauty Box, with popular brands such as Prai, Ren, Nuxe, Stila and Percy & Reed all making regular appearances.
How does it work?
Depending on the type of promotion being ran, the M&S Beauty Bag may either be available for direct purchase or offered as a promotional deal. You'll typically be able to get your hands on the Beauty Box when you spend a certain amount on M&S products, and this qualifying spend often includes purchases from any M&S department, not just beauty, making it a great time to stock up on your M&S favourites.
Once you've met the minimum spend, you can add the Beauty Box to your basket for a substantially reduced price. And voila, you're now the proud owner of an M&S Beauty Bag, filled to the brim with luxurious treats waiting to be discovered.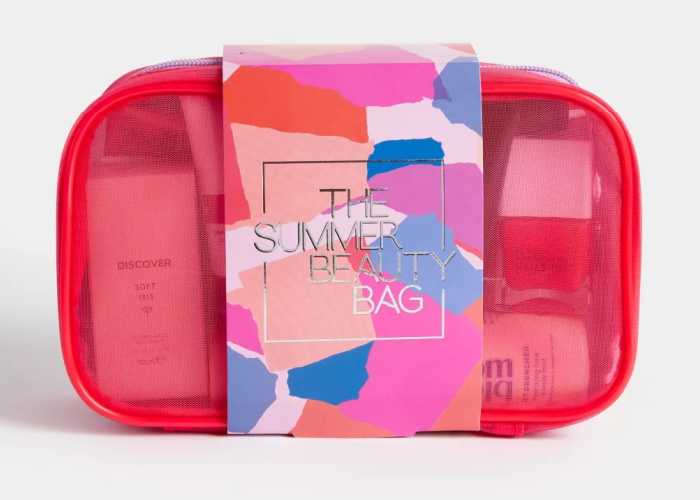 Is the M&S Beauty Bag worth it?
While the contents of the M&S Beauty Bag are undoubtedly enticing, you might be wondering if it's worth the investment. To answer that, it's important to look at the value proposition.
Typically, the cost to purchase the Beauty Bag is dramatically lower than the combined retail value of the individual products. This makes the Beauty Bag a fantastic deal for anyone who wants to try an array of products without splurging on each one separately.
Moreover, the brands included are high-end and respected in the beauty industry. With M&S's keen eye for quality and trends, you can trust that the products chosen are well worth your attention.
That said, the value of the Beauty Bag also depends on how interested you are in trying new products. If you enjoy experimenting with beauty and skincare or are looking for new favourites, then the Beauty Bag will be a treasure trove. Conversely, if you're someone who prefers to stick to your tried-and-true routine, the Beauty Bag might introduce you to more variety than you need.
Final Thoughts
From top-notch skincare products and high-end makeup to premium haircare, M&S's Beauty Box, now the Beauty Bag, has proven time and again to be a fantastic way to discover and indulge in the world of beauty. Its combination of quality, variety, and affordability is hard to match. And let's not forget the thrill of unboxing each item – it's like having your birthday multiple times a year!
The M&S Beauty Bag offers an excellent opportunity to experiment with products and brands you might not have considered or been able to afford otherwise. It allows you to stay up-to-date with the latest beauty trends without having to commit to full-size purchases.
Sure, the value of the Beauty Bag can be subjective. However, if you love exploring new beauty items, or if you're a fan of the brands featured, the M&S Beauty Bag is a worthy investment. Add to this the sheer excitement and anticipation surrounding the Beauty Advent Calendar, and it's safe to say that M&S has your beauty interests covered throughout the year.
That said, as with any beauty purchase, it's important to remember that everyone's skin and hair are different. What works well for one person might not suit another. Always perform patch tests with new skincare or haircare products to ensure they suit your skin type.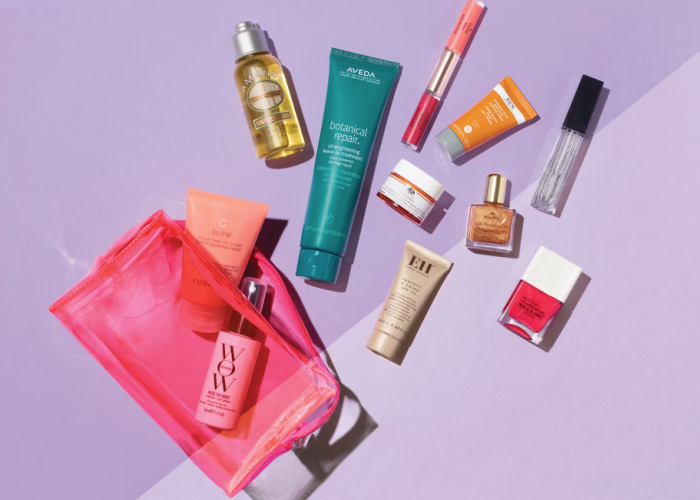 Frequently Asked Questions
In this section we answer your questions about the M&S Beauty Bag.
How often is the M&S Beauty Bag released?
The M&S Beauty Bag is not released on a fixed schedule, but it usually coincides with special events or seasons. Keep an eye on M&S's website and social media channels for announcements.
Can I buy the M&S Beauty Bag online?
Yes, when available, the M&S Beauty Bag can be purchased online. However, remember that it's typically part of a promotional offer requiring a minimum spend.
Can I choose the products in my Beauty Bag?
No, the products in the Beauty Bag are pre-selected by M&S. The selection is based on popular and high-quality items from their beauty department.
I have sensitive skin. Can I use the products in the Beauty Bag?
Many of the products in the Beauty Bag are suitable for all skin types. However, if you have sensitive skin, it's always advisable to do a patch test before using a new product.
Are there any exclusive items in the M&S Beauty Bag?
Yes, occasionally, the Beauty Bag contains exclusive items such as the Discover's Soft Iris Fragrance – a delicate floral fusion perfect for those who love light and airy scents.