80s Makeup: Your Guide to TikTok's Hottest Beauty Trend
While we have spent the better part of the decade waxing nostalgic over '90s grunge and minimalist aesthetics, a surprising and flamboyant trend has taken social media by storm — 80s makeup.
Dazzling neon hues, powerful pastels, and graphic liner trends pay homage to the era of disco fever and vibrant pop culture.
This burst of colours and styles has transformed our TikTok feeds into a time machine, bringing back the glitz and glamour of a bygone era.
Move aside, '90s minimalism. The 2023 beauty scene is all about maximalism, and 80s inspired makeup is leading the charge.
This article will serve as your guide to understanding and embracing this electrifying beauty trend.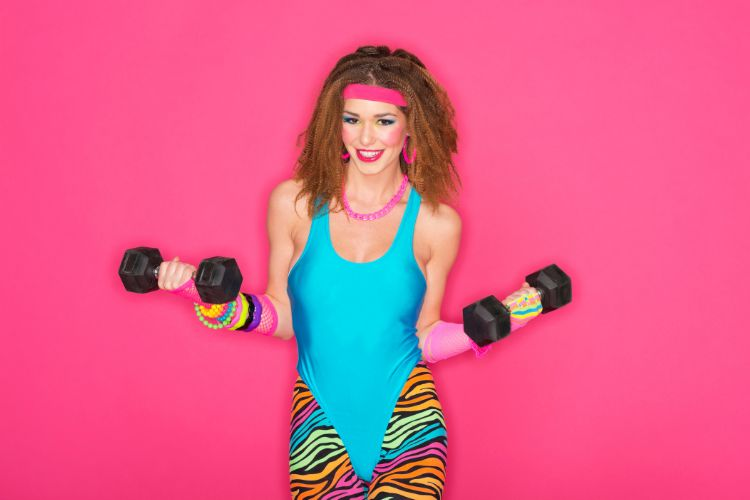 What defines 80s Makeup?
80s makeup is characterised by its audacious, colourful, and dramatic style, a clear reflection of the era's ethos of self-expression and individuality.
If you think about the 80s, names like Madonna, Cyndi Lauper, and Boy George spring to mind, icons who were known for their signature, daring looks.
Heavy blush, neon eyeshadows, bold graphic liners, and frosted lipstick were the order of the day.
There was no such thing as 'too much'. The quintessential 80s look is anything but subtle; it's all about packing a punch of colour onto your face and expressing your boldness and vibrancy through your makeup.
Perhaps the most distinctive features of 80s makeup are the eyes and cheeks. Eye makeup was dramatic, with a penchant for rainbow colours that extended to the brow bone, while blusher was applied liberally, often contoured high on the cheekbones for a sculpted look.
The lips, on the other hand, were generally softer — nudes, soft pinks, and frosted shades were popular choices.
Why is 80s Makeup Back in Style in 2023?
Every era tends to romanticise the past and the 2023 beauty scene is no different. The resurgence of 80s makeup on TikTok and other social media platforms can be attributed to a combination of factors.
Firstly, there's the cyclical nature of fashion and beauty trends. Just as we've seen with the revival of '90s and early 2000s styles, the pendulum of trend has now swung back to the 80s.
Secondly, the current beauty ethos mirrors that of the 80s in its celebration of individuality and self-expression. Today, just as then, makeup is viewed as a form of personal expression and creative freedom. Bold and vibrant 80s styles align perfectly with this ethos, allowing wearers to experiment with their look and make a statement.
Finally, there's the influence of popular culture.
With television shows like "Stranger Things" and "GLOW" that showcase 80s styles, coupled with the impact of social media platforms such as TikTok where retro aesthetics are celebrated, it's no wonder the vibrant and dramatic 80s look has made such a triumphant comeback.
So, are you ready to take a trip back in time? Let's explore how to rock the 80s makeup trend in the next sections. (And check out our article on how to apply makeup in the right order for extra tips)!
Easy 80s Makeup Trends (And How to Do Them!)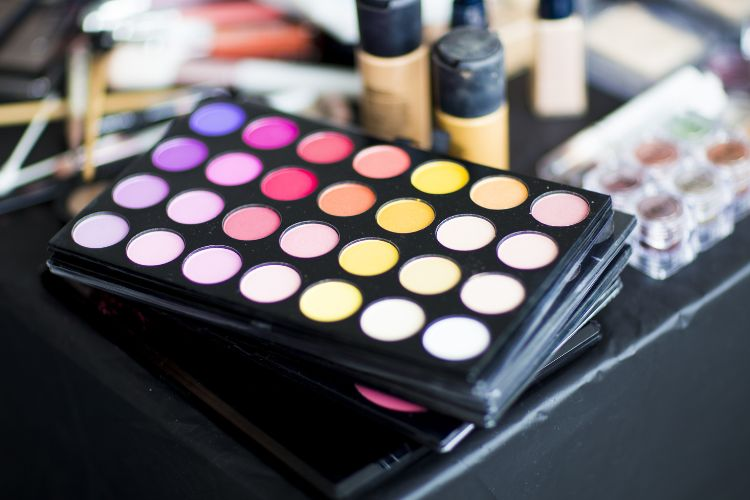 Colour-Packed Eyeshadows:
In the 80s, eyeshadows were the real show-stoppers. From bright pinks and electric blues to dazzling greens and luminous purples, the era was all about making a statement with eye-popping hues.
To achieve this look, you will need a colourful eyeshadow palette with a variety of bright shades.
Start by applying a primer to your eyelids to make the eyeshadow colours pop and stay put longer.
Then, pick a vibrant colour and apply it all over your lid, extending it up to the brow bone. .
To add depth, choose a darker shade in the same colour family and blend it into your crease.
For added drama, line your lower lash line with the same colours.
Bold Blush:
The 80s were a time when blusher was not just an afterthought but a major part of your makeup look. It was applied generously and often extended up to the temples for a sculpted look.
For an authentic 80s blush, choose a bright pink or coral shade. Apply it from the apples of your cheeks all the way up to your temples in a sweeping motion, creating a strong, sculpted look. Blend well to avoid any harsh lines.
Statement Eyeliners:
The 80s took eyeliners to a whole new level with bold, graphic lines that complemented the vibrant eyeshadow looks. Eyeliner was applied thickly and often extended beyond the outer corners of the eyes for a dramatic wing.
To recreate this look, opt for a gel or liquid liner for precision and control. Draw a thick line along your upper lash line and extend it out into a wing. You can also line your lower lash line for added intensity.
Frosted Lipstick:
The lips in the 80s were typically softer and understated compared to the rest of the face, with frosted lipsticks in nudes, pinks, and soft corals being the go-to choices. These lipsticks offered a subtle shimmer and a pearly finish that was highly sought after.
For an 80s-inspired lip, look for a frosted lipstick in a soft pink or coral shade. Apply it generously on your lips, and for an added touch of authenticity, dab a bit of clear gloss in the centre of your lips to emulate the shiny, wet-look finish popular in the 80s.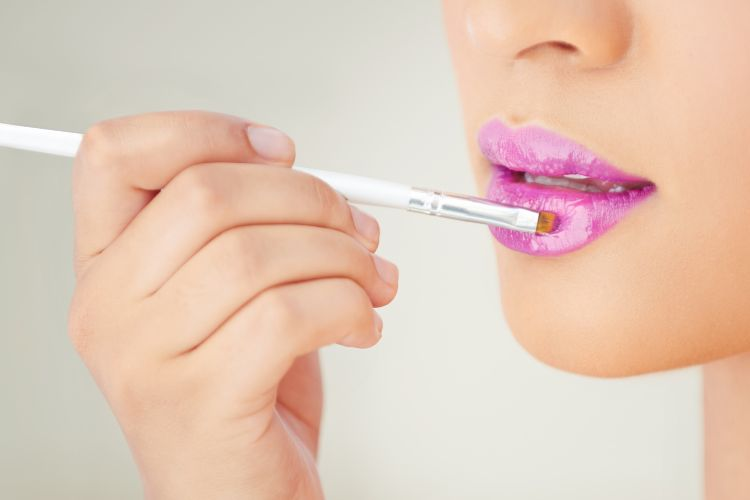 Over-the-Top Lashes:
In the 80s, the mantra for lashes was 'the bigger, the better'. Plush, thick lashes were all the rage, and mascara was applied generously to achieve this look. False lashes were also widely popular.
To give your lashes that 80s vibe, invest in a volumising mascara. Apply several coats to both your upper and lower lashes. If you're feeling adventurous, consider applying some false lashes to take the look to the next level. Remember, it's all about excess when it comes to the 80s!
Bold Brows:
While the 90s were known for thin, overly plucked brows, the 80s embraced a more natural, bold brow look. Bushy and thick, these brows framed the face and added balance to the heavy makeup looks of the decade.
Embrace your natural brows and use a brow pencil or powder to fill in any sparse areas and add definition. Use a clear brow gel to brush your brows upwards for a more pronounced and bushy look.
Neon Hues:
Neon hues are the epitome of 80s makeup. It's all about being daring and audacious, experimenting with colours that are bright, flashy and electric.
To incorporate neon hues in your makeup, you can use neon eyeliners or eyeshadows. Apply neon pink or green as an eyeliner for a pop of colour or go all out with a full neon eyeshadow look. Pair it with a simple nude lip to keep the focus on your eyes.
Read More: Ultimate Guide to the Best Beauty Subscription Boxes in the UK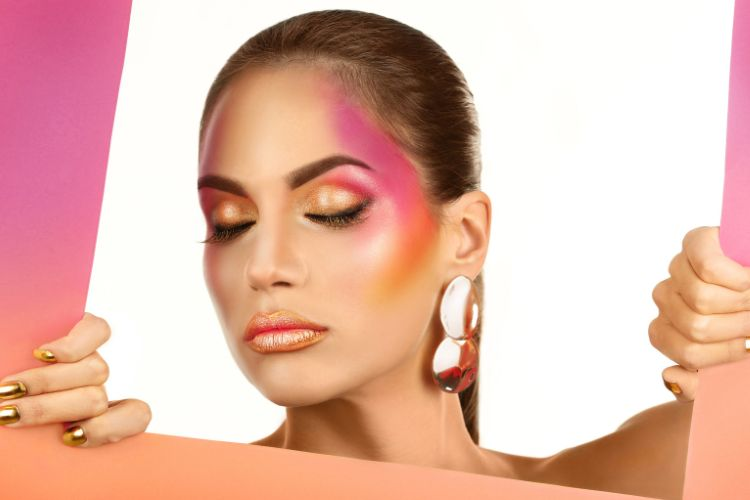 Tips and Tricks for Giving Your Look an 80s Spin
The 80s makeup trend is all about bold colours, heavy contouring, and expressive styles. However, it's crucial to keep in mind that balance is key when it comes to recreating such a dramatic look. Here are some tips and tricks to help you nail the 80s look without going overboard:
Play with Colours: The 80s were all about experimenting with vibrant colours. Don't be afraid to mix and match different hues and experiment with unique combinations.
Keep It Balanced: If you're going for dramatic eyes, it's best to keep the lips soft and vice versa. This will ensure your makeup doesn't become overwhelming.
Use Modern Techniques: While the 80s trend is making a comeback, it's essential to adapt it to modern times. Use the current makeup techniques you're comfortable with to recreate the 80s looks in a way that suits you best.
Practice Makes Perfect: Some of these looks, like graphic liner and vibrant eyeshadow, may require some practice. So take your time to practise and perfect the look before debuting it.
Remember to Have Fun: Makeup is a form of self-expression. The most important thing is to have fun with it, experiment with different looks, and let your creativity shine.
Final Thoughts
Overall, with its bright colours and over-the-top styles, the 80s look is perfect for those who aren't afraid to make a statement and want to add a fun twist to their makeup routine.
While the 80s makeup may seem extravagant, it's an opportunity to let loose, have fun, and bring a vibrant pop of colour to your makeup routine. Whether you want to try the trend subtly or go all out, there's something about the 80s makeup trend that everyone can enjoy and incorporate into their look. So grab your bold blush, electric eyeshadows, and let your creative spirit loose.
Ultimately, the 80s makeup trend on TikTok has not only given us a fun new way to experiment with makeup but also a chance to pay homage to a decade known for its unique and iconic beauty trends. So why not jump on this nostalgic beauty train and let the fun, vivacious vibe of the 80s inspire your next makeup look. It's time to embrace the 80s makeup resurgence in all its colourful glory!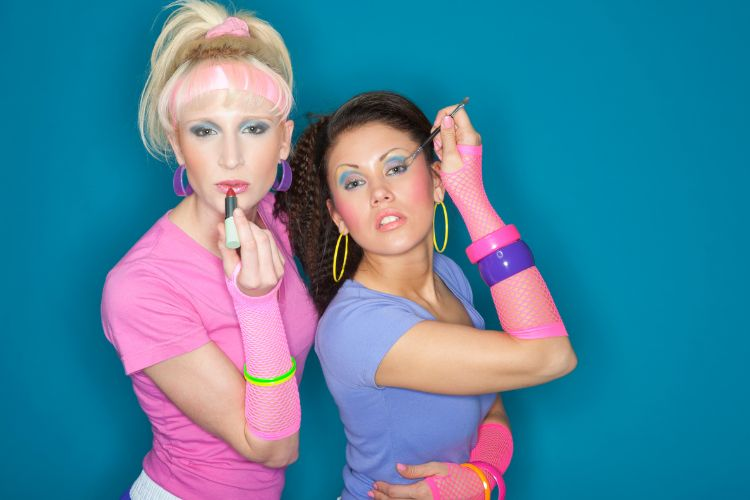 Frequently Asked Questions
In this section we answer your questions about 80's Makeup trends.
What defines the '80s makeup trend?
80s makeup is all about bold colours and dramatic styles. The decade is characterized by bold blush, bright eyeshadow, and heavy eyeliner. From blue eyeshadow to pink lips, this makeup trend had it all.
Which iconic figures personified the 80s makeup style?
Names like Cyndi Lauper, Boy George, and Brooke Shields come to mind. They, along with others like David Bowie and Debbie Harry, were known for their signature, audacious looks.
Why did blue become such a popular eyeshadow colour in the 80s?
Blue eyeshadow was all the rage, as it resonated with the vibrant and flashy culture of the era. It was the perfect colour to pop against bright pinks and purples.
How was lip makeup typically done?
While eye makeup was vivid, lips took a softer approach with frosted lips being popular. Lip liner was used to accentuate the shape, often complemented by shades of pink or red lipstick.
What about eyebrows and lashes?
Bushy brows were in, thanks to fashion icons like Brooke Shields. Using brow gel helped achieve this look. Big hair and bold, plush lashes achieved with heavy mascara or even false lashes were also in vogue.
How can one modernize 80s makeup trends for today?
While embracing 80s makeup trends, add a modern twist. For instance, a smokey eye with blue eyeliner can look chic. Similarly, draped blush, which is an exaggerated blush technique, can be tweaked to fit today's standards.
Were there any makeup trends in the 80s that might seem out of place today?
Yes, exaggerated blush applied from the cheeks to the temples, and metallic lips might feel a bit too retro today. However, with a modern twist, they can still be relevant.
Why is 80s makeup making such a significant comeback now?
80s makeup resonates with today's beauty ethos of self-expression. Furthermore, TV shows, social media, and a cyclical nature of makeup trends have brought this vintage look back into the spotlight.
How can I incorporate 80s trends without overdoing it?
Choose elements that resonate with you. If bright eyeshadow is your pick, keep the lips neutral. For a bold blush, ensure a more natural approach to eye makeup.
Who were some of the biggest influencers of 80s fashion and beauty?
Apart from Cyndi Lauper and Boy George, stars like Grace Jones, Whitney Houston, and Debbie Harry played pivotal roles in setting 80s makeup looks. Their iconic styles influenced many to wear bright pinks and purples, eye makeup that stood out, and bushy eyebrows.
Was 80s makeup suitable for all skin tones?
Yes, the 80s makeup palette had colours that could be adapted to various skin tones. However, it's essential to pick shades complementary to one's natural skin tone.
Were there any notable accessories or fashion items associated with 80s makeup?
Absolutely! 80s makeup was often paired with big hair, shoulder pads, leg warmers, and even fanny packs. All these elements came together for a complete 80s look.