Teenage Beauty Box: The Best Beauty Boxes for Teens in the UK
Entering the world of beauty and skincare can be both exciting and overwhelming, particularly for teenagers who are just beginning to discover the joys and challenges of beauty routines.
Beauty boxes, which are carefully curated boxes filled with a variety of beauty products, can be an excellent way for teens to explore and learn about beauty and skincare products in a fun and manageable way.
This guide aims to provide insight into what a beauty box is, why it might be an excellent gift for your teenager, and the best beauty boxes for teenagers in the UK – so let's take a look!
What is a Beauty Box?
A beauty box is a subscription-based service that delivers a selection of beauty products right to your doorstep.
These boxes often include a mix of skincare, makeup, haircare, and sometimes even fragrance samples, but can also feature new releases, cult favourites, or underrated gems from various brands.
The true charm of a beauty box lies in its element of surprise and discovery: every month, your teen will get to unbox a variety of products, try them out, and maybe even find a new favourite.
It's a wonderful way to explore the vast and ever-changing landscape of beauty products without the overwhelm of choice or the financial commitment of buying full-sized products.
Should I get my Teen a Beauty Box Subscription?
As a parent or guardian, you might wonder if a beauty box subscription is suitable for your teenager, but the answer is a resounding yes! Here are some benefits of getting a beauty box subscription for your teen:
Exploration and Discovery:
Beauty boxes are like a monthly treasure trove of products waiting to be explored.
They give teenagers the opportunity to discover different types of products, brands, and beauty routines. This discovery can be particularly exciting during the teenage years, when they're still figuring out what works best for them and what they like.
Education:
Each beauty box not only contains products but also often comes with information about each product, its ingredients, and its usage instructions.
This can be incredibly educational for teens who are just beginning to delve into the world of beauty and skincare, as they can learn about different ingredients, understand their effects, and start to understand what their skin likes and doesn't like.
Building a Routine:
Regular exposure to various beauty products can help teens get into the good habit of keeping a skincare routine, which can help them combat common teen skincare problems like acne, oiliness, or even just the odd pimple.
They'll learn about the importance of a consistent skincare routine, how to properly apply makeup, and even how to take care of their hair.
Responsible Beauty:
Aside from being a fun foray into the world of skincare and makeup, many beauty boxes focus on featuring cruelty-free or vegan brands, or those with sustainable practices, and this can be a great way to introduce your teen to the concept of responsible beauty.
Fun:
At its core, beauty should be about fun and self-expression. A monthly beauty box can feel like a personal gift, bringing excitement and anticipation every 4 weeks.
For teens, it can also be a fun way to bond with friends, as they can compare products, swap items, and try them out together.
Ultimately, a beauty box subscription can be more than just a gift; it can be a tool for exploration, education, and personal expression, making it a great choice for teenagers.
The Best Beauty Boxes for Teens UK
When selecting a beauty box for your teen, you'll want to consider factors such as price point, product variety, and brand ethos. Let's take a closer look at four beauty boxes in the UK that stand out for their appeal to the younger demographic:
The Beauty Bay Sample Mystery Box:
The Beauty Bay Sample Mystery Box offers a fantastic introduction to the world of beauty for teenagers, and is even pocket-money-friendly!
For a very affordable £25 per box, subscribers will receive 12 sample-size products,  some of which will be from Beauty Bay's own collection, and some of which will be curated from other selected brands. Beauty Bay's ethos centres around fun, experimentation, and affordability, making it an excellent match for teens.
In each mystery box you'll find a selection of makeup and skincare products, ranging from eyeshadow palettes to hydrating serums, lip balms to hair masks; the box is a wonderful way for teenagers to explore different beauty products and find their favourites, all without breaking the bank.
Plus, it's a one-time purchase, not a subscription, which allows you to test the waters before committing to a monthly box.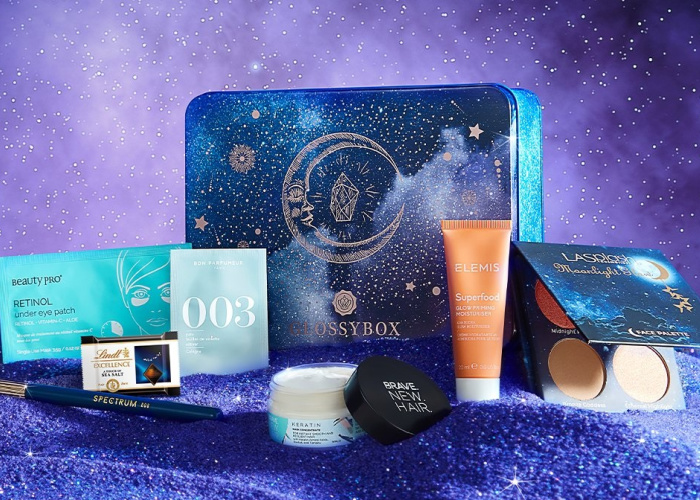 Glossybox:
Glossybox is another fabulous option for teenagers, offering a balanced mix of skincare and makeup products.
For £13.25 per month, Glossybox delivers five beauty products in a beautifully packaged box, with a retail value of over £50.
What makes Glossybox appealing for teens is the diverse mix of well-known brands and emerging names. Each month, your teen will get the chance to explore new trends, techniques, and products, plus, Glossybox also includes a detailed product guide with each box, providing valuable information about each product's ingredients and usage instructions.

Lookfantastic Beauty Box:
The Lookfantastic Beauty Box is another highly popular beauty subscription service renowned for its product variety and value.
At just £13 per month, each box contains a mix of skincare, haircare, cosmetics, and body products, and this diversity makes it an excellent choice for teens looking to explore different aspects of beauty care.
Lookfantastic's boxes feature both deluxe samples and full-sized products from a variety of high-quality brands, making it once again a fantastic way for teens to try out premium products without the hefty price tag.
The monthly beauty magazine included in the box offers further educational value, with beauty tips, skincare advice, and information about the included products.
Skin + Me:
As we all know, our teenage years can be a challenging time for our skin, with hormonal changes often leading to problems such as acne, oiliness, and sensitivity.
Skin + Me takes a unique approach to skincare with personalised treatments designed for individual skin types and concerns.
When you sign up for Skin + Me, you fill out a skin questionnaire, and based on the answers, a team of dermatologists designs a custom daily treatment.
While this isn't a traditional mixed-bag beauty box, the personalised approach can be beneficial for teenagers struggling with their skin. It's also a valuable lesson in understanding that effective skincare is not one-size-fits-all, and what works for a friend may not necessarily work for them.
Which Beauty Box is best for my Teen?
Choosing the best beauty box for your teenager depends on their individual interests, needs, and preferences.
If they're a budding beauty enthusiast keen on trying a variety of products and brands, then Beauty Bay Mystery Box, Glossybox, or the Lookfantastic Beauty Box might be the best fit.
All of these offer a wide range of products and brands for your teen to explore, from makeup to skincare.
If your teenager is more interested in skincare, particularly if they're dealing with skin issues like acne or oiliness, a subscription to Skin + Me might be more beneficial.
Its personalised approach can offer an effective solution while teaching the importance of skincare that's tailored to individual needs.
Keep in mind that the beauty box should feel like a gift – a fun surprise that they look forward to each month. Don't be afraid to involve them in the process of choosing which box to try, and make sure it aligns with their interests and preferences.
Is a Beauty Box Worth it?
So, is a beauty box subscription worth it for your teenager? From a financial perspective, beauty boxes often offer good value for money, providing a variety of high-quality products for a fraction of their retail price.
However, the real value of beauty boxes lies beyond their monetary worth. These boxes offer a fun, engaging, and educational experience for your teenager to discover and learn about different beauty and skincare products, helping them develop a beauty routine that works for them.
Furthermore, beauty boxes can also help your teen to discover and explore their personal style: the variety of makeup and cosmetic products they'll receive each month can inspire creativity and self-expression, essential aspects of personal development during those all-important, formative teenage years.
In essence, investing in a beauty box for your teenager means investing in their self-discovery, self-expression, and self-confidence – and that is truly priceless.
Final Thoughts
Navigating the world of beauty and skincare as a teenager can be a bit overwhelming, but a beauty box subscription can make it a whole lot easier – and much more fun!
Whether your teen is a makeup lover, a skincare enthusiast, or somewhere in between, there's a beauty box out there that will cater to their needs and curiosity. Beauty boxes not only provide fantastic value for money, but they also serve as a monthly dose of joy, surprise, and beauty education, making them a perfect gift for your teenager.
From the affordable Beauty Bay Mystery Box and the diverse Glossybox to the educational Lookfantastic Beauty Box and the personalised skincare from Skin + Me, the UK has an excellent selection of beauty boxes for teenagers.
Each one offers its unique take on the beauty box concept, providing teenagers with an exciting opportunity to explore, experiment, and express themselves through the world of beauty.
In the end, the best beauty box for your teenager is the one that excites them, suits their needs, and inspires them to feel confident in their skin.