Setting Spray vs Loose Powder: Which one is Best for You?
As makeup artists and enthusiasts continually strive for the ultimate, long-lasting finish to their makeup, the market has answered with a myriad of products designed to maintain that just-applied look.
Among the front-runners of these products are setting sprays and setting powders; both have secured their place in makeup bags across the globe, but the age-old question remains: which one is the best?
As with many things in the beauty industry, the answer isn't one-size-fits-all. Let's delve into the all-important art of makeup setting and explore which of these coveted products might be your go-to.
Why you need to set your makeup
Before exploring the specifics of setting sprays and powders, it's crucial to understand the fundamental reason for setting your makeup.
Setting, in the context of makeup, refers to the act of applying a product to seal the makeup in place, ensuring its longevity throughout the day or night.
The primary purpose? To prevent smudging, creasing, or the fading of your carefully applied products.
There are other compelling reasons to set makeup:
Climate Adaptation:
Depending on your environment, humidity, heat, or even excessive cold can play havoc with your makeup. A setting product acts as a barrier, making your makeup more resilient against the elements.
Oil Control:
For those with oilier skin types, makeup can often degrade or slip throughout the day. Setting products, especially certain powders, can absorb excess oil, ensuring makeup remains impeccable.
Enhanced Finish:
Beyond mere functionality, setting products can offer an aesthetic advantage. Whether you desire a dewy finish, a matte appearance, or a soft-focus effect, there's a setting product out there to achieve your desired look.
While setting your makeup might sound like an extra step in an already comprehensive beauty routine, the payoff in terms of makeup longevity and appearance makes it a step worth taking.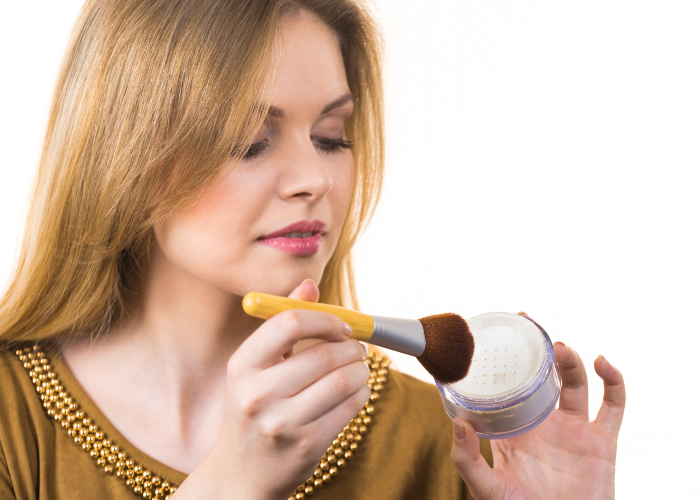 Setting spray vs. powder: Key Differences
Both setting sprays and powders are designed with the same primary objective in mind – to keep your makeup in place.
But they achieve this goal through different means and offer varied benefits:
Application:
Setting sprays are liquids that you mist onto your face. They create a lightweight barrier over your makeup. In contrast, setting powders are applied with a brush or puff and provide a layer of powder over your foundation and concealer.
Finish:
Sprays often offer various finishes ranging from matte to dewy. Powders, however, are generally more matte, but certain formulations can give a luminous or satin finish.
Longevity:
While both are meant to prolong the wear of your makeup, many find that setting powders, especially those that are mineral-based, tend to offer longer wear, especially for oilier skin types. However, setting sprays are often favoured for their ability to keep makeup looking fresh and less "cakey."
Texture and Feel:
Sprays typically feel lighter on the skin and can be refreshing, especially if they contain ingredients like cucumber or rose water. Powders, depending on the formula, can feel almost weightless or slightly heavier if applied too generously.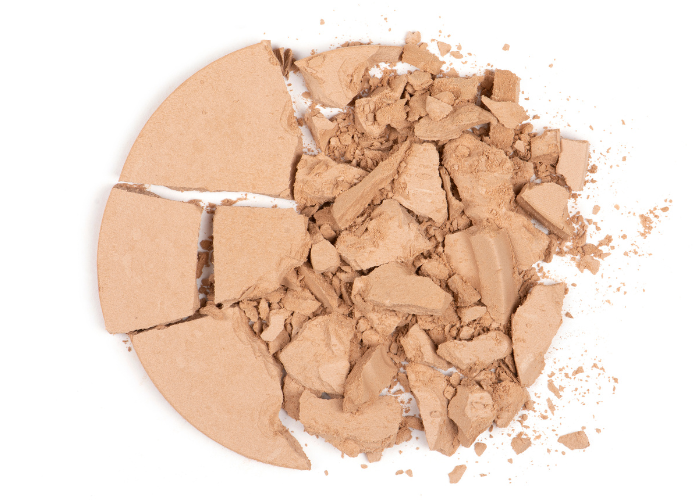 What's best for oily skin?
For those who have oily skin, the primary makeup challenge is typically combatting shine and ensuring that makeup doesn't slide off as the day progresses.
Setting Powders:
Given their absorbent nature, setting powders are often the first choice for oily-skinned individuals. They work by soaking up excess sebum, thus preventing the shine that can break through makeup. Many powders are formulated with minerals like silica, which are known for their oil-absorbing properties.
When selecting a powder, it's crucial to choose a non-comedogenic product to ensure it doesn't clog pores, leading to breakouts.
Setting Sprays:
While sprays might not be the first pick for those with oily skin, there are formulations specifically designed for oil control. These sprays often have a matte finish, which combats shine. However, they might not offer the same long-lasting oil absorption as powders.
Recommendation for Oily Skin:
Given the nature of oily skin, a combination approach might work best. Applying a light layer of setting powder, followed by a matte-finish setting spray, can lock in the look while ensuring minimal shine throughout the day.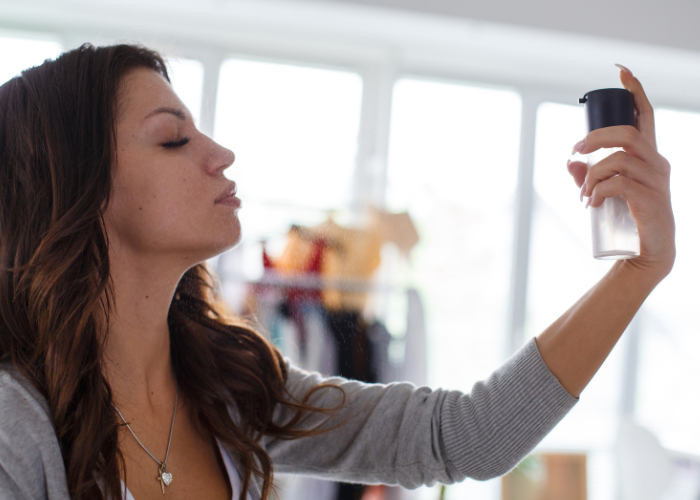 What's best for dry skin?
Dry skin comes with its own set of challenges. Makeup can sometimes accentuate dry patches, or the skin can appear dull due to a lack of natural oils. The key here is hydration and illumination.
Setting Powders:
Those with dry skin need to tread carefully with powders. Over-application can cause the skin to appear more parched. It's essential to select powders that are finely milled and have a luminous or satin finish. Hydrating ingredients, such as hyaluronic acid or certain natural oils, can be beneficial.
Setting Sprays:
For dry skin, sprays are a favourite. They can provide hydration, and many are formulated to give a dewy finish, lending the skin a radiant glow. Ingredients like glycerine can help to lock in moisture, while others like rose water can offer a refreshing boost.
Recommendation for Dry Skin:
A hydrating setting spray is the go-to for dry skin types. If you're keen on using a powder, ensure it's one that offers a luminous finish and consider using it sparingly, perhaps only in areas where makeup tends to fade fastest.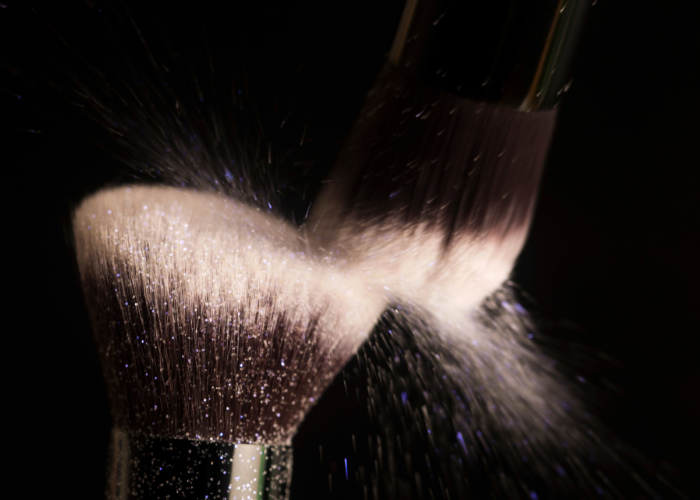 What's best for combination skin?
The most unpredictable of the skin types, combination skin is characterised by having areas that are both oily (usually the T-zone) and dry. The key is balance.
Setting Powders:
A light application of powder, focusing on the oily areas, can be beneficial. The dry areas might need minimal to no powder, or a more hydrating formulation.
Setting Sprays:
A balanced, middle-of-the-road setting spray that doesn't overly mattify or make the skin too dewy is ideal. Alternatively, using two different sprays for the respective areas of the face can also be an approach for those who want a customised finish.
Recommendation for Combination Skin:
Given the dual nature of combination skin, customisation is key. Using a setting powder on the T-zone and a hydrating setting spray on the drier areas can offer the best of both worlds.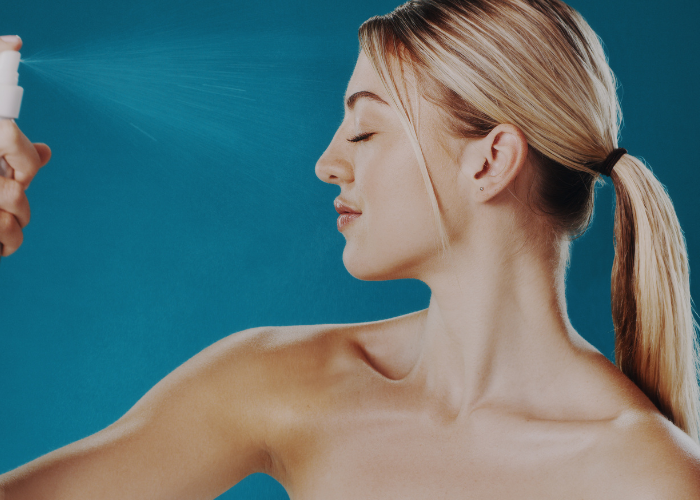 Powders and setting sprays: Top Picks
Charlotte Tilbury Airbrush Flawless Finish:
Known for luxurious packaging and high-performance products, Charlotte Tilbury's Airbrush Flawless Finish setting powder is a cult favorite. With its finely milled texture, it provides a soft-focus effect that blurs imperfections, making it ideal for all skin types.
For setting sprays, their Airbrush Flawless Setting Spray ensures makeup stays put while giving the skin a radiant finish.
YSL Souffle D'Eclat:
The iconic brand delivers with its Souffle D'Eclat setting powder. Infused with a subtle shimmer, it's perfect for those wanting a luminous finish. Their Setting Spray is lightweight, providing a refreshing mist that seals makeup effectively.
NYX Matte Finish Setting Spray:
An affordable favourite, NYX's Matte Finish Setting Spray is perfect for those with oily skin, ensuring makeup stays matte and in place. For powders, the HD Finishing Powder offers a translucent finish suitable for various skin tones and types.
Fenty Pro Filt'r Instant Retouch Setting Powder:
Rihanna's brand, Fenty, revolutionised the beauty industry with its focus on inclusivity. Their Pro Filt'r Instant Retouch Setting Powder offers a range of shades, ensuring everyone finds their perfect match. The What It Dew Makeup Refreshing Spray is hydrating, making it suitable for drier skin types.
Laura Mercier Translucent Loose Setting Powder:
A name synonymous with setting powders, Laura Mercier's Translucent Loose Setting Powder is a staple in many makeup kits. It provides a natural, long-lasting matte finish suitable for multiple skin types.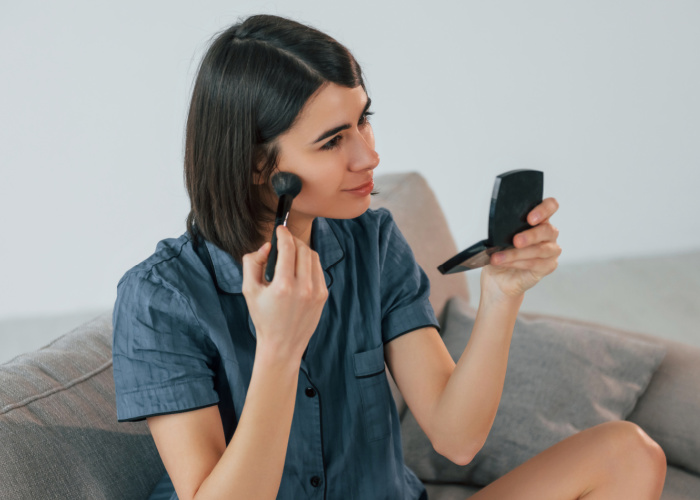 Final Thoughts
Whether you lean towards a setting spray or powder, the ultimate choice rests on your skin type, desired finish, and personal preferences.
While powders tend to offer a matte, oil-absorbing finish, sprays can hydrate and provide varying degrees of shine. For those still in doubt, remember that beauty is all about experimentation.
Try out different products, perhaps even layering them, until you find the combination that leaves you feeling both gorgeous and confident.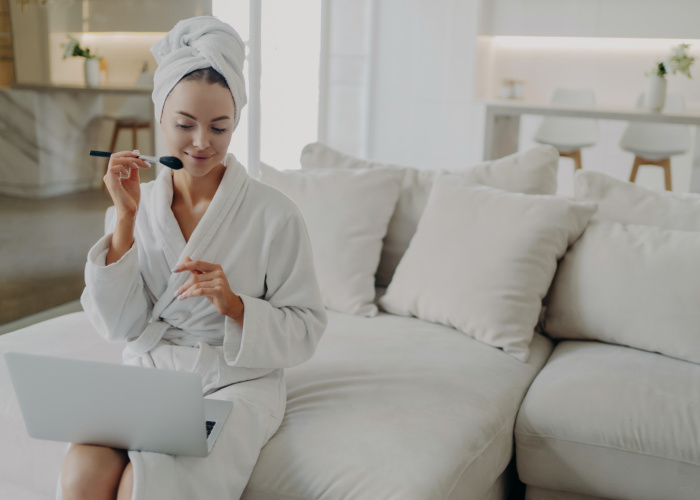 Frequently Asked Questions
In this section we answer your questions about Setting Spray vs Pressed Powder.
What's the difference between setting spray and setting powder?
Setting spray is a liquid mist applied to set the entire makeup look, while setting powder is a powder (either loose or pressed) applied primarily to set foundation and concealer.
Can I use both setting spray and setting powder together?
Yes, many individuals first use setting powder and then finish with a setting spray for extra longevity and a flawless finish.
Are there paraben-free setting products available?
Absolutely. Many brands, including NYX Professional Makeup and Urban Decay, offer paraben-free formulas in their product range.
Which brands are known for their setting products?
Brands like Laura Mercier, Bobbi Brown, Urban Decay, and NYX Professional Makeup are well-regarded for their setting products.
How often do I need to do touch-ups when using setting products?
The need for touch-ups can vary based on the product's quality, your skin type, and external conditions. However, good setting products can extend makeup wear for several hours.
Do setting products offer sun protection?
Some setting sprays come with added SPF, providing sun protection. Always check the product label to ensure you're getting the desired benefits.
Can setting powder make your skin look cakey?
If over-applied, setting powder can give a cakey appearance. It's essential to use a light hand and blend well to achieve a natural finish.
Which gives a more dewy look, setting spray or setting powder?
Setting sprays often provide a more dewy or radiant finish, while setting powders are typically associated with a matte or natural look.
How do I apply setting powder without it looking too heavy?
Use a fluffy brush, tap off excess powder, and apply in a dabbing or pressing motion. Some prefer baking, where you let the powder sit for a few minutes before brushing off the excess, to ensure long-lasting results.