Beauty Pie UK: A Beginner's Guide to the Beauty Pie Membership
Embarking on a journey to discover new and fresh beauty products is always exhilarating, but what if there was a way to explore this realm without the hefty price tags often attached to luxury items?
Enter Beauty Pie UK, a game-changing concept that's disrupting the conventional rules of the beauty industry.
In this guide, we'll delve into the nuts and bolts of a Beauty Pie subscription, shedding light on how it works, what it offers, and how it allows you to indulge in the most luxury beauty products at a fraction of the retail cost.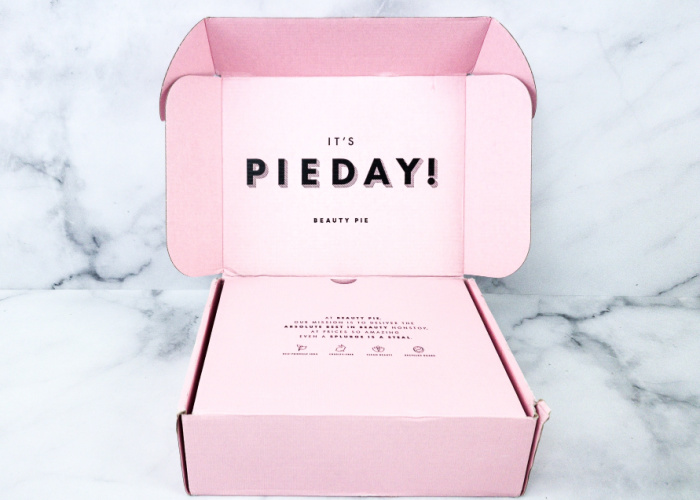 What is Beauty Pie UK?
Often referred to as the 'Netflix of the beauty world,' Beauty Pie is an innovative members-only subscription service that gives you access to top luxury brands and beauty products at factory prices.
The brainchild of Marcia Kilgore, the entrepreneur behind successful brands like Bliss Spa and Soap & Glory, Beauty Pie is founded on the principles of transparency and cost-effectiveness.
Beauty Pie's pioneering model cuts out the middlemen, mark-ups, and the unnecessary costs that often inflate the price of beauty products. Instead, it gives members direct access to prestigious factories that produce cosmetics for high-end brands, delivering premium beauty products without the luxury price tag.
From skincare and makeup to fragrances and haircare, Beauty Pie offers a comprehensive range of beauty essentials that cater to every beauty enthusiast's needs. And unlike beauty subscription boxes, you choose exactly the products that you want.
The platform stands out in the crowded beauty market by breaking away from conventional practices. Instead of splurging on celebrity endorsements, costly packaging, or high-street retail markups, Beauty Pie channels its resources towards developing superior formulations, ensuring that every pound you spend goes towards the product's intrinsic value.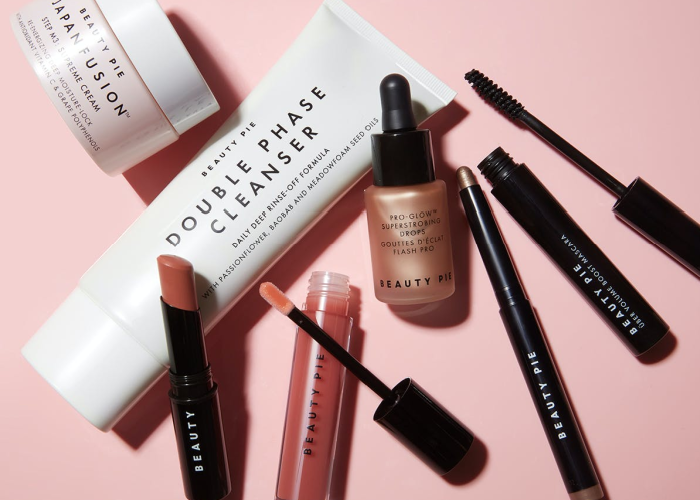 How Does Beauty Pie Work?
At first glance, the Beauty Pie model might seem too good to be true, but it's surprisingly straightforward. When you subscribe to Beauty Pie, you're buying a monthly or annual membership. As a member, you get a monthly spending limit based on typical retail prices, but you only pay the factory cost for the products you choose.
When you join Beauty Pie, you're given an initial spending limit, which can vary depending on the type of membership you choose. This limit is the maximum typical price value of products you can buy in a month. However, instead of paying these typical prices, you pay the factory cost – often up to 85% less.
For example, if your limit is £100, you can purchase products whose retail value adds up to £100, but you only pay the factory cost, which could be as low as £20. Any unused spending limit rolls over to the next month, and your limit gets topped up each month you're a member.
Furthermore, members gain access to exclusive product launches and the ability to increase their savings by upgrading their membership for a higher spending limit.
The true brilliance of Beauty Pie lies in its radical transparency. Each product's cost breakdown is clearly displayed, giving you complete visibility into what you're paying for. This insight into the beauty industry's pricing practices is refreshing and empowering, shifting the power dynamics in favour of consumers.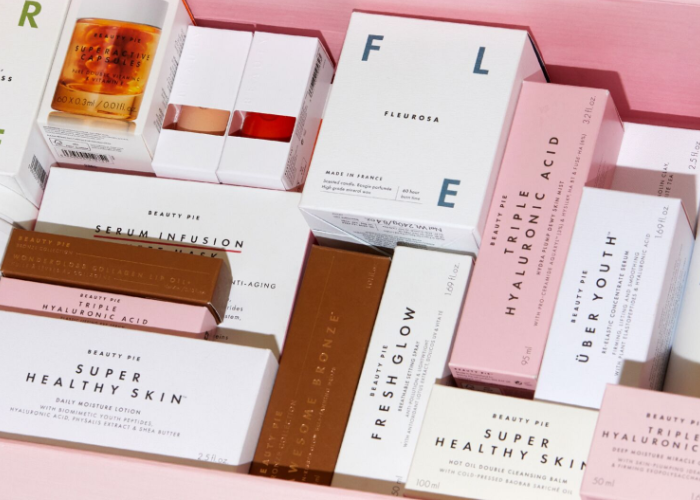 What Does Beauty Pie Offer?
At the heart of Beauty Pie UK lies a broad and ever-growing range of products that cater to diverse beauty needs. From makeup and skincare to haircare and fragrances, Beauty Pie's offerings are expansive and impressive:
Skincare:
Beauty Pie's skincare range is comprehensive, featuring everything from cleansers, toners, serums, moisturisers to eye creams and masks. The products are packed with premium ingredients, such as retinol, hyaluronic acid, and peptides, formulated in renowned labs across Switzerland, Korea, Japan and France.
Makeup:
In the cosmetics department, you'll find products for every step of your makeup routine. Primers, foundations, concealers, lipsticks, eyeshadows, and more – all available in a plethora of shades to suit different skin tones and preferences.
Haircare:
Beauty Pie also offers a selection of high-performance haircare products, including shampoos, conditioners, hair masks, and styling products.
Fragrances:
The fragrance range includes beautiful, long-lasting scents crafted in Grasse, France, renowned as the world's perfume capital.
Body Care and Wellness:
You can also indulge in body creams, shower gels, and wellness products, like high-quality supplements and candles, as well as tools and accessories.
The brand constantly introduces new products, keeping up with the latest beauty trends and innovations, and all products are subject to stringent safety and efficacy tests to ensure members receive only the highest quality.
Read More: Ultimate Guide to the Best Beauty Subscription Boxes in the UK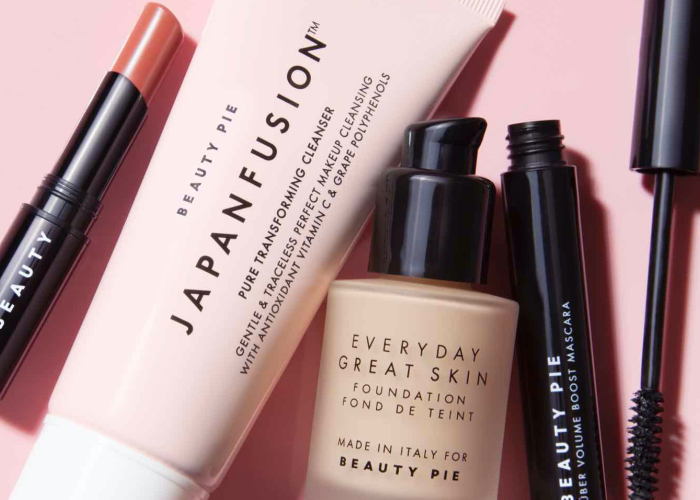 How Is Beauty Pie So Affordable?
The magic behind Beauty Pie's affordability is its unique business model that bypasses the traditional markups associated with beauty retail.
In the conventional beauty industry, the actual cost of a product is often only a fraction of its final retail price: the price is inflated by factors such as retailer markup, brand markup, warehousing, marketing costs, and more.
Beauty Pie eliminates these additional costs by giving its members direct access to the world-class labs that create formulations for high-end brands.
The company doesn't pay for expensive TV ads, celebrity endorsements or elaborate storefronts. Instead, Beauty Pie focuses on product quality and passes the savings directly to its members.
By charging a subscription fee, Beauty Pie can provide products at their true cost without the need for conventional markups. Members pay the factory cost, which covers the price of raw materials, research and development, and production, resulting in significant savings.
In essence, Beauty Pie disrupts the traditional beauty industry by prioritising transparency and value, delivering luxury products at a fraction of the typical retail price.
How Much Does Beauty Pie Cost?
The cost of a Beauty Pie membership depends on the monthly spending limit you choose. As of now, there are four tiers of membership available:
£10 per month for a £100 allowance
£20 per month for a £200 allowance
£30 per month for a £300 allowance
£99 per year (equivalent to £8.25/month) for a £100 allowance per month
Each membership tier offers an increased 'typical price' spending limit. However, remember that you only pay the factory cost of the products, which often results in significant savings.
There's also an option for a £59 one-time membership which gives you a £150 spending limit for 24 hours, ideal if you'd like to try the service without committing to a monthly subscription.
Keep in mind that these prices are for the membership fee alone – the cost of the products you choose is additional, albeit at a fraction of their usual retail prices.
Final Thoughts
Ultimately, Beauty Pie is a revolutionary concept that's shaking up the beauty industry, offering access to premium products without the luxury price tag. Whether you're a beauty aficionado or someone who enjoys trying new products, it's well worth exploring as part of your beauty journey.
Read More: The Top Vegan Subscription Boxes in the UK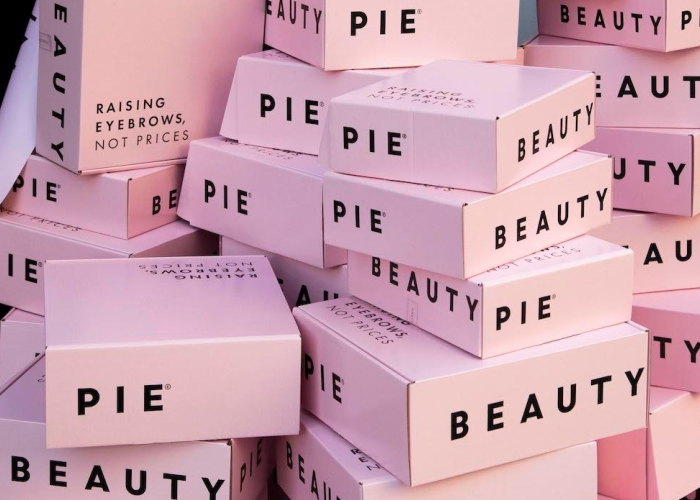 Frequently Asked Questions
In this section we answer your questions about the Beauty Pie Membership.
What exactly is Beauty Pie?
Beauty Pie is a game-changer in the beauty industry. Imagine Netflix for beauty lovers, allowing you to shop for premium beauty products without all the frills of retailer markups.
Can I shop from Beauty Pie without a membership?
To get the most value and start shopping at factory prices, you need a Beauty Pie membership. Without it, you'd be paying the full price without the member benefits.
How does Beauty Pie work?
When you become a Beauty Pie member, you buy products at factory costs, eliminating the hefty retailer markups. Essentially, you get the quality minus the extra cost.
What is unique about Beauty Pie's skincare range?
Their skincare collection boasts premium ingredients like vitamin C, vitamin E, retinol, peptides, and hyaluronic acid. Whether you want a brightening serum for the morning or a hydrating moisturiser for the evening, they have your skincare routine all covered.
Is Beauty Pie's business model truly revolutionary in the beauty industry?
Absolutely. Instead of consumers paying inflated prices due to advertising, fancy packaging, and other costs, Beauty Pie's aim is to provide consumers with direct access to the factories, essentially rewriting the rules of the beauty industry.
Does Beauty Pie offer anything for brows or complexions?
Yes, their range is vast. From lightweight products that give your complexion a natural glow to specific items for your brows, you can shop to your heart's content.
Who is the brains behind Beauty Pie?
The innovative brand was launched by Marcia Kilgore, the same woman behind successful ventures like Bliss Spa.
Is it true that Beauty Pie offers cruelty-free products?
Absolutely true. Their formulas are not only top-quality but also cruelty-free, ensuring that what you put on your skin is ethical.
Can I see a breakdown of product costs on Beauty Pie?
Yes, Beauty Pie stands out by offering radical transparency. You can see a review of how much each element like raw materials, R&D, and packaging costs, so you know exactly what you're paying for.
What if I want to try a product before committing to a full-size?
Beauty Pie has thought of that. They offer capsules for some products, allowing you to test before you decide to buy the full-size product.
Are there any new launches I should look out for?
Absolutely, Beauty Pie often has new launches. Members get first access, so it's always a good idea to check their site regularly.