Do Beauty Boxes Include Full-Sized Products?
The beauty world is ever-evolving, with new miracle products seemingly launching every day – or at least that what a quick scroll of TikTok would have you believe. But sometimes, navigating this endless ocean of choice can be somewhat overwhelming.
This is where beauty boxes come in – think of a beauty box as your perfect compass guiding you through the exciting beauty world, letting you explore, experience, and enjoy a variety of products with minimal effort.
With a beauty box subscription, you're basically treating yourself to a trove of surprise beauty products delivered right to your door every month. But do these boxes also come packed with full-sized products? Let's take a look.
What is a Beauty Subscription Box?
A beauty subscription box is a pre-packaged box filled with an array of beauty products, including everything from skincare products and makeup to hair care and beauty tools. It's a bit like a little gift that arrives at your doorstep each month, packed with exciting new items for you to explore and enjoy.
Typically, for a fixed monthly fee, you'll receive a curated selection of beauty items of mixed size, with some miniature luxury samples and some full-sized products. These can be products from well-known, high-end brands or unique finds from emerging companies, making it an excellent way for beauty enthusiasts to discover new products, try out different brands, and keep their beauty game up-to-date without the hassle of hunting down individual items.
For those who are new to the beauty world, these boxes serve as a useful starting point, introducing them to the vast range of products available and allowing them to find what works best for their skin type and personal preferences. For beauty aficionados, these boxes present an opportunity to diversify their existing routine and sample products they might not otherwise come across. Win-win!
Do Beauty Boxes Come With Full-Sized Products?
The short answer is: it depends on the subscription service. Some beauty box subscriptions, like Lush and Cosmetips do offer full-sized products, while others focus on providing sample or travel-sized items. And then there are boxes that strike a balance, offering a mix of both full-sized and mini versions.
Why the variation, you ask? Well, the concept of beauty boxes is centred around the idea of discovery and experimentation. Offering sample-sized items allows consumers to test a variety of products without committing to the full-sized versions, which can be particularly beneficial for high-end, expensive brands. On the other hand, including full-sized products can offer more value for money, providing users with a product that lasts for a longer period.
In the end, it boils down to the subscription service's policy and the price point. Premium subscription services or those priced higher are more likely to include full-sized items as part of their package, enhancing the perceived value and appeal.
However, it's always crucial to read the fine print. Make sure you're fully aware of what your beauty box will include before making the commitment. That way, you can set realistic expectations and make the most out of your subscription.
What are the Benefits of a Beauty Box Subscription?
Discover New Brands and Products:
One of the main attractions of a beauty box subscription is the opportunity it presents to discover new brands and products. Every month brings a selection of items from various brands, many of which you may not have come across before. It's an excellent way to explore the beauty market without committing to full-sized products or making a significant financial investment.
Save Money:
When you consider the cost of individual beauty products, especially from premium brands, the price of a subscription box can often be a fraction of the combined value of the products it contains. Whether it includes full-sized or sample-sized items, a beauty box subscription can provide you with an opportunity to enjoy high-end products and experience luxury skincare routines without the hefty price tag.
Convenient and Personalised:
Beauty box subscriptions offer a convenient way to replenish your beauty supplies without the need to visit a store or search online. Many beauty subscription services, like the Skin and Me beauty box, also allow you to personalise your box based on your skin type, beauty preferences, and even the type of products you want to receive. This level of personalisation means that the products you receive will be suited to your individual beauty needs and preferences, reducing the chance of unwanted items.
Treat Yourself:
Receiving a beauty box can feel like getting a surprise gift each month. The anticipation of not knowing exactly what will be in the box adds to this excitement, and the unboxing can feel like a special treat. The beautifully packaged products often come with a description and usage instructions, making it feel like a personalised beauty experience rather than a simple product delivery.
Test Before You Invest:
For those considering investing in a new beauty product, particularly a high-end one, a beauty box subscription can be a risk-free way to try before you buy. Many beauty boxes include sample sizes of new or popular products, giving you the chance to test these items in the comfort of your own home before deciding to purchase the full-sized version.
Learn About the Latest Trends:
In the fast-paced world of beauty, keeping up with the latest trends can be a challenge – there are only so many hours a day that can be spent scrolling on TikTok or Instagram! Beauty boxes can help by including products that are currently trending in the industry, be it a new ingredient making waves, a latest skincare routine, or a newly launched product range. It's an easy way to stay in the know and keep your beauty regime up-to-date.
Less Waste:
By providing sample sizes of products, beauty boxes allow you to test and trial a product to see if it suits you before you commit to a full-sized version. This approach can lead to less waste, as you won't end up with full-sized products that don't suit your skin type or meet your beauty needs.
Expand Your Beauty Horizons:
Finally, a beauty box subscription encourages you to step out of your comfort zone and try products you may not normally consider. This can lead to exciting new discoveries and may even change your beauty routine for the better!
Beauty Boxes in the UK that Offer Full-Sized Products
So, where can you get a beauty box that offers full-sized products? Here's a list of some of the most popular beauty boxes in the UK, and what they include:
Glossybox:
Renowned for its beautiful packaging and diverse selection of products, Glossybox offers a mix of deluxe samples and full-sized products. The boxes are often tailored around a theme and include brands ranging from well-established favourites to emerging names in the beauty industry, and like any other box, you can expect to find a delightful mix of skincare, makeup, haircare and body products in each one.
LookFantastic:
Lookfantastic's beauty box subscription offers a blend of full-sized and travel-sized products from a variety of premium brands. The contents of each box are curated by beauty experts and provide an excellent way to discover new beauty trends, test out the hottest products, and enjoy a monthly treat of high-quality beauty essentials.
Cosmetips:
Unlike other beauty boxes, Cosmetips exclusively offers full-sized products. These boxes are filled with luxury items, each selected by an influencer or beauty expert, offering a personalised touch. If you're seeking a premium beauty box experience and want to enjoy full-sized products from top beauty brands, Cosmetips is an excellent choice.
ASOS:
Relatively new to the game, the ASOS Beauty Box offers a mix of both full-sized and mini products, which makes it ideal for anyone wanting to experiment with new brands and products without committing to full-sized purchases. Like the other boxes, the ASOS beauty boxes often feature a mix of makeup, skincare, and haircare products, although you may also find beauty tools and accessories thrown in for good measure too!
Birchbox:
Birchbox mainly offers sample-sized products, but occasionally includes full-sized items in their monthly boxes. This is because each box is tailored to your unique beauty profile, ensuring that you receive products that match your beauty needs and preferences. With Birchbox, you can try out a variety of brands and products, and if you fall in love with a sample, you can purchase the full-sized version from the Birchbox shop.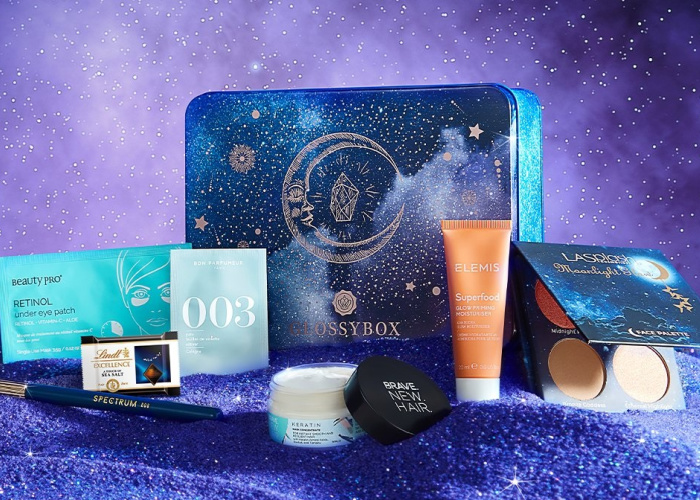 Final Thoughts
Whether you're a beauty enthusiast or a novice, a beauty box subscription can be an exciting and economical way to explore the world of beauty. While the size of the products may vary from samples to full-sized items, the value in these boxes often exceeds the subscription price, providing great value for money.
Besides, the joy of unboxing new beauty products each month is an experience that can't be quantified.
Additionally, the range of boxes on offer caters to all beauty needs and budgets, from Glossybox's blend of full-sized and deluxe samples, to Cosmetips' luxury all full-sized selection, and Birchbox's mainly sample-sized assortment. The choice ultimately depends on your preferences, budget, and how much you value full-sized products versus the opportunity to try a broader range of products in smaller sizes.