The Best Tampon Subscription Boxes in the UK for 2024
For those of us who experience periods, it's always a good idea to keep a hefty supply of sanitary products at home: there's no knowing when your period might hit, especially if you have an irregular cycle.
But whether you've simply forgotten to stock up, or if your period has decided to arrive unfashionably early, we've all found ourselves on the first day of our period with no pads or tampons in sight.
This is where tampon subscription boxes can come in useful; rather than having to dash to your local Boots wearing a DIY pad, a period subscription service sends all the period supplies you need right to your door, well in time for the first day of your cycle.
With some services even adding extra essentials such as microbiome-boosting vitamins, heat pads, PMS support and tampon cases, a period subscription box is a bit like a menstrual care package, sent from you to you.
So, what are the benefits of a tampon subscription box, and what are the best period subscription services available in the UK? Let's take a look!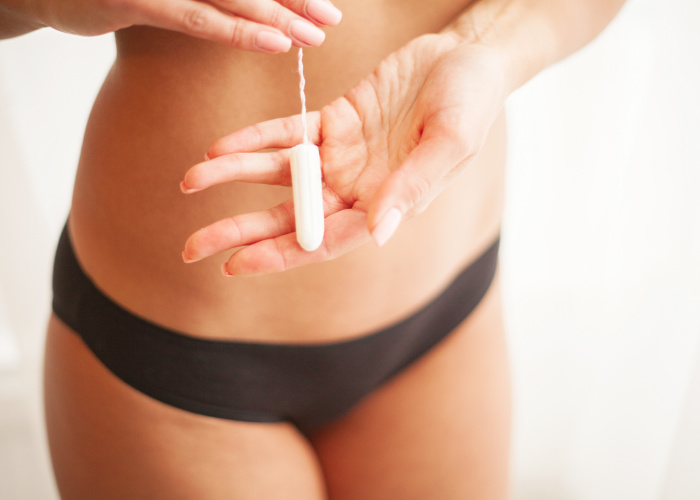 What is a Tampon Subscription Box?
As we mentioned above, a tampon subscription box – or a period subscription box – is a monthly care package that is delivered to your home monthly, or every 3 months (depending on the subscription service you choose).
Each box will include enough tampons or other sanitary products for a full cycle, and you'll be able to customise your own subscription to ensure the service meets your menstrual needs. For example, those with heavier periods can opt for more absorbent tampons or pads, and can also opt for a larger quantity of tampons or pads per cycle.
You'll also usually be able to include other menstrual essentials, which can include everything from hormone-balancing vitamins to skincare products – but we'll take a look at those further on.
Read More: Ultimate Guide to the Best Beauty Subscription Boxes in the UK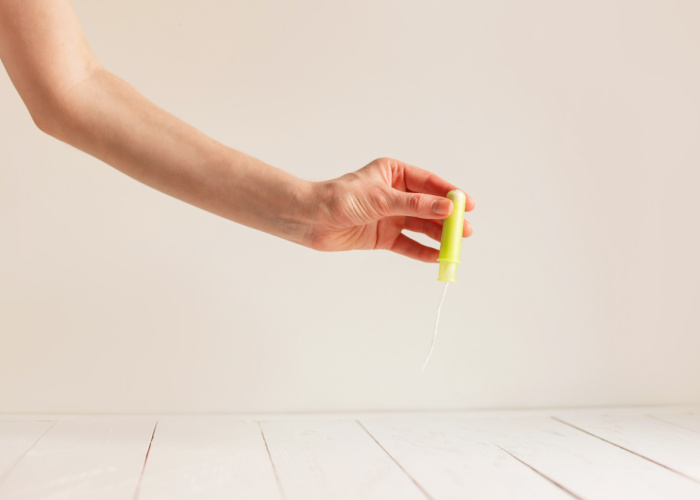 Why sign up to a tampon subscription service?
There are several benefits for signing up to a period subscription box, such as:
You're always prepared:
There's nothing worse than starting your period and realising you're out of sanitary products – think of your white clothes and expensive bed sheets! With a period subscription service, you'll usually be sent around 1-3 months' worth of period products at a time, so you know that you're ready-prepared if your uterus decides to catch you off guard.
Comprehensive feminine hygiene care:
Most tampon subscription services don't stop at simply sending tampons or pads to your home every month – they also offer a range of supplementary products that can help you manage period pain, balance your hormones, and even keep your vaginal microbiome in check.
With comprehensive intimate care and menstrual support, you'll be better equipped to handle your time of the month both physically and emotionally.
Customised to your cycle:
Another benefit of a period subscription box is that you can customise your monthly care package to best suit your needs. As we mentioned above, you can tailor your subscription box based on your flow and the regularity of your periods, but you can even go one step further and include some add-on products that can help you manage and mitigate PMS symptoms.
Depending on the period subscription service you opt for, you can include everything from hormonal skincare products to microbiome test kits in your monthly package, giving you full support when it comes to your menstrual health.
Read More: The Top Vegan Beauty Boxes in the UK
10 Best Tampon Subscription Boxes in the UK
So, now that you understand a little bit more about what a period subscription box includes, which service is the best for your needs?
To make things simpler for you, we've researched, analysed, and gathered 10 of the best period subscription boxes in the UK.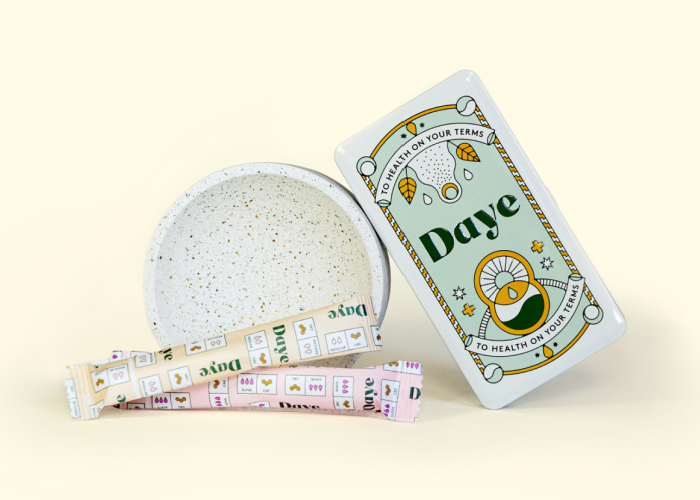 Daye
Daye is a feminine health brand committed to organic, ethical and body-safe intimate care, and the company offers one of the most lucrative period subscription services in the UK. With an annual subscription, you'll receive your period essentials every 3 months, and you'll be able to customise your subscription based on your menstrual needs.
What makes Daye great:
Customisable period boxes delivered every 3 months
The world's only flushable, ocean-safe tampon wrappers (plus, the designs are super cute!)
Tampons made with 100% organic cotton fibres
Free organic storage pouch and tampon case when you subscribe to a 3-month or 12-month plan
You can even opt for CBD Daye tampons, made with feel-good CBD extracts to help manage PMS
Save 20% when you opt for an annual subscription
A range of subscription service add-ons, including ProViotics (oral probiotics designed to support your vaginal floral) as well as an at-home vaginal microbiome kit delivered to your home 3 times a year with an annual subscription.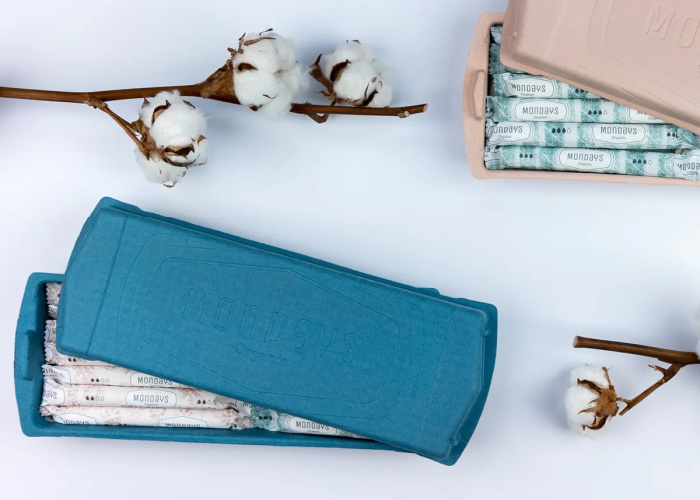 Organic Mondays
With a focus on sustainability, Organic Mondays offers perhaps one of the most customisable period boxes on the market, and is ideal for those looking for a simple, fuss-free subscription service.
Before you sign up to their service, you can take a quick 15-second quiz to determine which of their products might be best suited to your cycle and flow, before customising your box yourself and tailoring your delivery options to suit your needs.
What makes Organic Mondays great:
With unlimited customisation options, you can opt for a mix of tampons, pads and panty liners, choose between winged and non-winged pads, and customise the absorbance level of each product.
Also each product is:
Hypoallergenic
Made with organic cotton
Plastic and fragrance-free
Sustainable and planet-friendly brand.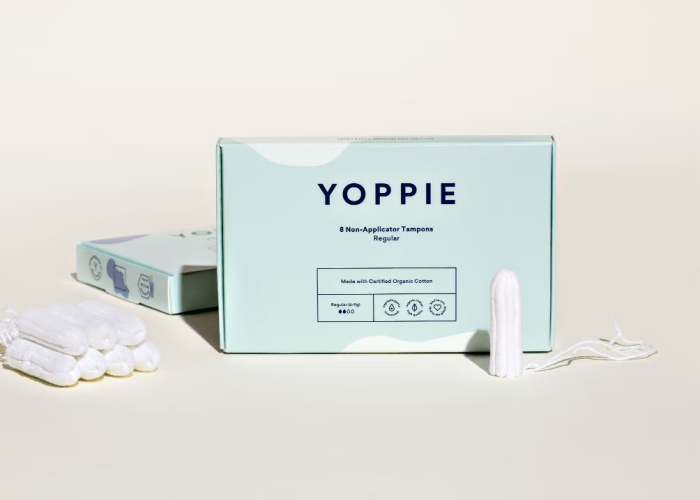 Yoppie
Yoppie isn't so much a tampon subscription service as it is a comprehensive menstrual health support service, or a one-stop-shop for all things periods!
Before you opt for a full subscription with Yoppie, you'll take a quick quiz detailing the flow of your cycle, your preferred sanitary products, any PMS symptoms you suffer from, as well as any skin-related concerns that you experience during your time of the month.
Yoppie will then generate a personalised monthly period care package that tackles your main concerns, and which can include health supplements, vitamin supplements, face masks, and enough period products to last the length of your cycle.
For those with PCOS or Endometriosis, Yoppie even offers additional supplements to help control and manage your day-to-day symptoms.
What makes Yoppie great:
100% personalised period box
Extensive menstrual health support – you can take a look at some Yoppie reviews online to see just how helpful Yoppie's comprehensive approach to menstrual care has been for thousands of customers
You can remove any add-ons that you don't think are necessary (such as face masks or vitamin supplements)
Pause, modify or cancel your subscription at any time
Discreet letterbox delivery
Free shipping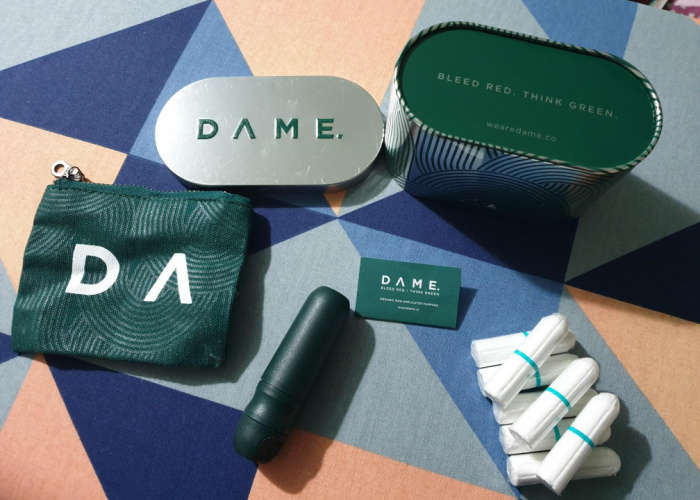 Dame:
Dame is a UK-based feminine hygiene brand, and are widely known for their reusable period underwear. But this company also offers a UK-exclusive tampon delivery service, and is one of the most affordable options at just £9.99 per month (with subscription).
What makes Dame great:
Discreet letterbox delivery
Dame tampons are made with organic cotton, designed to support a healthier flow
Customisable period boxes
Monthly deliveries
4 levels of tampon absorbency to choose from
Affordable (plus free shipping!)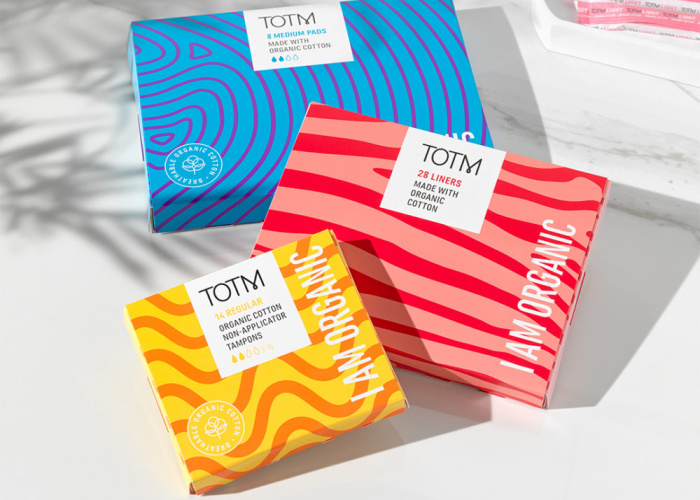 TOTM
TOTM is another sustainability-oriented period subscription box service, with an added focus on ending period poverty in the UK. With a TOTM tampon subscription, you can choose between pads, tampons and panty liners, and your care box will be delivered to your home every 3 months (with 3 months worth of period supplies inside, of course).
What's great about TOTM's tri-annual delivery system is that you can manage your subscription online, meaning you're not tied down to a 12-month service. So, if you've been having light periods and find yourself with an excess of tampons in your bathroom cabinet, you can simply pause your membership until you've used them all up.
Even better, you can keep your subscription active and ask TOTM to donate your sanitary products to those in need: this can help thousands of disadvantaged women in the UK have more comfortable periods, and takes us one step closer to ending period poverty.
What makes TOTM great:
Sanitary products designed for comfort
Products made with 100% certified organic cotton
Save 10% when you subscribe
Donate extra tampons and pads to those in need
Pause your subscription at any time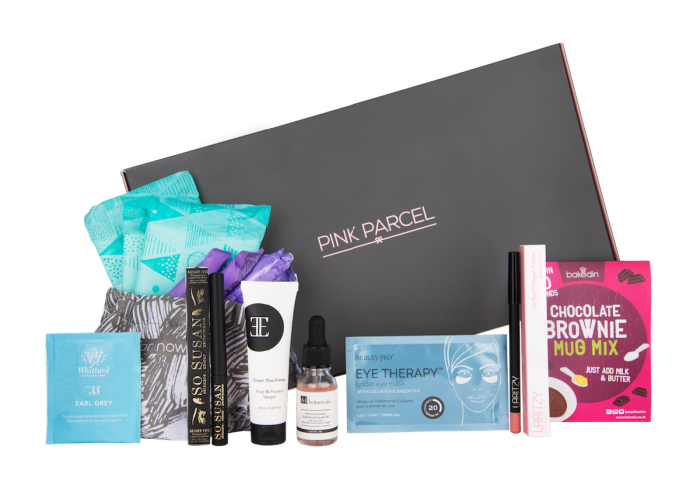 Pink Parcel:
If you enjoy indulging in a bit of self-care when you're on your period, Pink Parcel might just be the period subscription box for you! With every delivery, you'll receive over £40 worth of brand-name sanitary products, as well as a range of assorted lifestyle products, including cosmetics, body care products, and skincare products.
What makes Pink Parcel great:
Perfect for treating yourself during that time of the month
Discover new cosmetics and femcare products from well-known brands
Pick from a mix of pads, tampons and panty liners to suit your needs
Cancel any time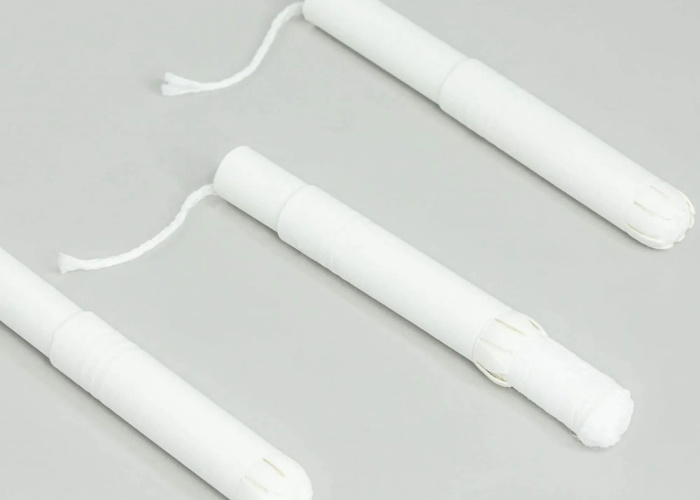 Grace and Green
Grace and Green is an organic wellness brand focusing on intimate care, fertility, and comprehensive wellbeing, and offers one of the most affordable tampon subscription services in the UK.
With a Grace and Green period subscription service, you can choose between panty liners, tampons, and pads (in the absorbance of your choice) and opt for quarterly or monthly delivery. Being organic and pH-neutral – as well as 100% biodegradable – Grace and Green are the ideal choice for those who are as conscious about the planet as they are their body.
What makes Grace and Green great:
Choose from 100% organic tampons and body-safe bamboo pads and liners
Suitable for all skin types
Affordable
Carbon-neutral business
All products come in recyclable and biodegradable packaging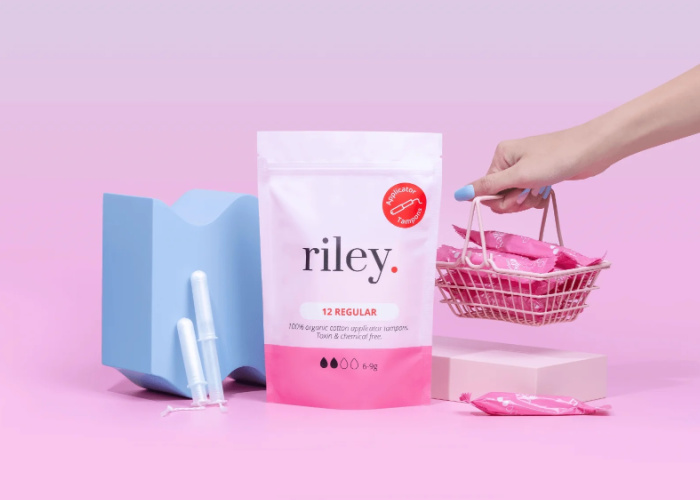 We are Riley
We are Riley is another organic-orientated tampon subscription service that can simplify your cycle in just a few clicks. With either 3-month or 6-month deliveries, you can pick-and-choose between panty liners, pads, tampons, and some additional add-on products, such as their probiotic supplement formulated to support your vaginal microbiome.
What makes We are Riley great:
Zero bleach, toxins or harmful chemicals in sanitary products
100% certified organic cotton tampons
All sanitary products are biodegradable
Customisable plan
Carbon-friendly bi-annual delivery
Save 10% with a 6-month delivery subscription
1% of every sale donated to fighting period poverty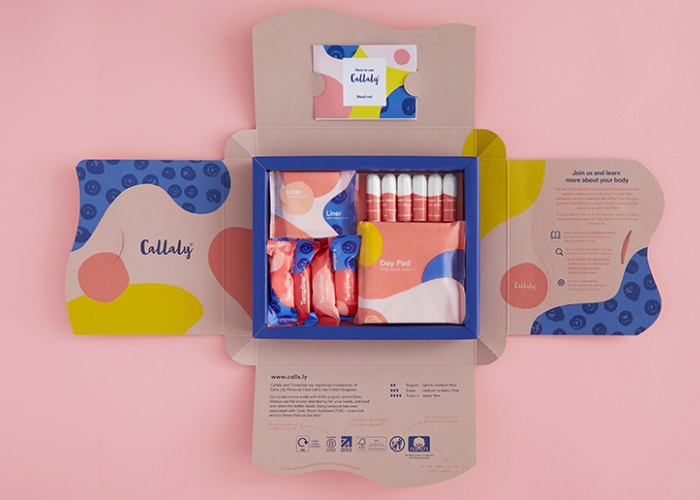 Callaly
For those looking for an affordable, sustainable and organic period solution, Callaly offers pads, tampons, and liners made with 100% organic cotton, sent discreetly in recyclable packaging that fits easily through your letterbox every month.
And if you tend to switch between pads and tampons depending on your flow, why not add Callaly's unique "Tampliner" to your monthly care package? The tampliner blends the security of a tampon with the added protection of a liner, and wraps itself when removed – this helps protect your underwear and clothing from those pesky period stains.
What makes Callaly great:
Hard plastic-free tampon applicators
Tampons and pads made with 100% organic cotton
Sustainable and biodegradable
Flexible subscription options
20% discount for students (from your second box onwards)
Free deliveries for those with a subscription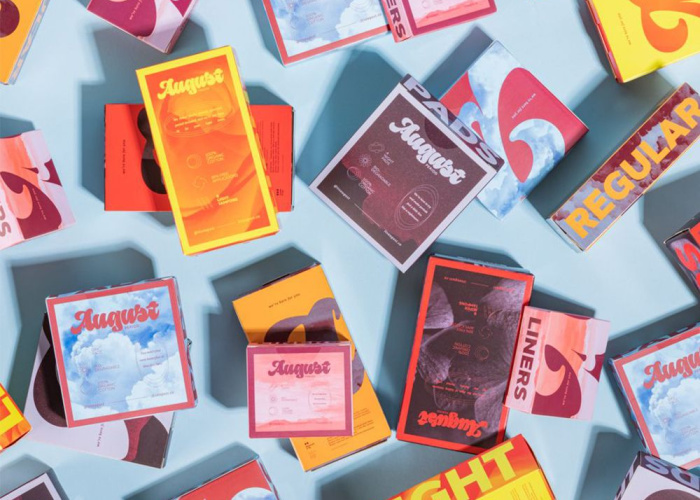 August
Designed with women in mind, August's period subscription box combines convenience, personalisation and affordability, with endless customisation options and a subscription experience that puts your needs first.
You can choose between 100% organic cotton tampons, pads, and liners, and you can select exactly how many you need every month – you can add batches of 8, 16, 24 and 32 tampons and pads per cycle. You can even opt for "long night pads" for extra protection, and choose an absorbance level (for all your sanitary products) that best matches your typical monthly flow.
What makes August great:
Highly absorbent; eight layers of protection
Monthly deliveries
Chemical-free cotton pads and tampons
BPI-certified biodegradable wrappers
Free delivery
Final Thoughts
Ultimately, whether you opt for Yoppie, August, Daye, or any of the other brands we've explored above, a period subscription box is a great way to simplify your monthly cycle while also supporting your overall menstrual and intimate health.
If you're considering taking out a subscription, make sure to do thorough research and read all reviews carefully; this will ensure you opt for the service that best suits your cycle, budget, and lifestyle needs the most.